Eyedaptic Glasses for AMD Vision Assistance
The Eyedaptic EYE2. Available Now.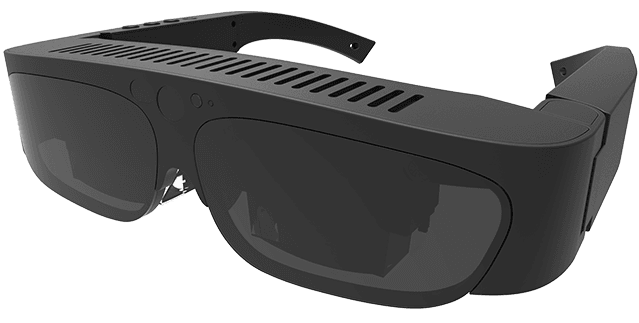 Eyedaptic EYE2
The Eyedaptic EYE2 is the first self-contained Augmented Reality glasses with a 45-degree field of view for coverage of the retina. Equipped with patent-pending adaptive vision software to enable simulated natural vision that helps those with central vision loss lead fuller, productive lives.
Key Features
Multiple Viewing Modes

Autozoom Mode – automatically zooms to bring text to the users most favored text size, allowing for easier and more efficient use, with no need to remember gestures or controls
Portal Mode – fixed magnification within central portal viewing area, blending with the real world
Plain Zoom Mode – user controls full-screen uniform magnification

Contrast Enhancement – sharpens the edges of text for easier viewing
Magnification up to 6x, ideal tradeoff between zoom function and available field of view
Fits comfortably, more like traditional eye glasses
Learn more about how to get started with the EYE2
Unboxing
When you first open the box, you will see the glasses and a portable carrying case. In the case you will find: a portable charging block for the glasses, USB cords, a battery pack and guides to help you setup and use your glasses.
Set Up and Adjustment
For first time setup, you will need to make sure your glasses and battery pack are fully charged.
There are several adjustments you can make to the glasses to best fit you: attach the head strap onto the glasses, adjust the displays on the glasses, or move the nosepiece.
Operation
When wearing your glasses, there are 3 different modes to choose from including both manual and autonomous modes.
You can also adjust the brightness and enhance the contrast of letters and images.
More Information
Submit this form to gain access to our informative content.