Eyedaptic Eyewear for AMD Vision Assistance
Stories from people who love Eyedaptic
Eyedaptic is a software company designed to help people with central retinal vision loss see and function better in their daily lives. A mobile device that users can wear across the range of their daily activities. Because it uses augmented reality, users can see the full image in front of them and interact with those objects, without feeling like they are closed in, or inhibiting their peripheral vision.
Hear the impactful stories of those who have used the Eyedaptic glasses. Learn how everyday activities such as shopping for a favorite food item or working on the computer are restored, using the augmented reality mobile eye wear device.
As a computer programmer, Brian loved going to work every day. Although his peripheral vision allows him to continue to be an active sailor however, dry AMD has rendered Brian legally blind, forcing him to retire from a job he loved, due to his severe vision loss.
More than just a blind spot in the center of his vision, Brian lives every day with essentially a dozen or so blind spots obscuring his central vision. Brian held up a large magnifying glass and explained how he would have to painstakingly use this to read one or two words at a time just to read the paper.
Julie is an interior designer who at only 17 years old was suddenly diagnosed with an eye disease, very similar to AMD. Unfortunately, her central vision loss impacts both eyes; she doesn't know how or why it happened. Now in her 50s', Julie's vision is 20/200.
Most people with AMD or low vision disorders have trouble with the simplest of daily like enjoying a piece of artwork or reading a magazine; tasks that many with unaltered vision take for granted. Now with the Eyedaptic technology, Julie is able to carry out these tasks with ease.
Meet Lowell, a former woodworker and a retired WWII veteran. He has remained active in his line of construction work, even in his 90's. Though his health is good, Lowell struggles with dry AMD and now his vision has deteriorated to 20/150. Lowell was interviewed wearing the Eyedaptic glasses and explains how useful the eyewear has been, helping him regain his freedom, even with completing an activity like going to the grocery store.
Even more stories from satisfied customers
The first time I put on the Eyedaptic EYE4, I experienced an aha moment. One of the best benefits of this unit is that it allows me to see people's faces when I'm in a social setting. The EyE4 has improved the quality of my life by allowing me to do normal functions around the house such as operate the microwave, read labels on medicine bottles, and be much more aware of my surroundings.
Chuck F.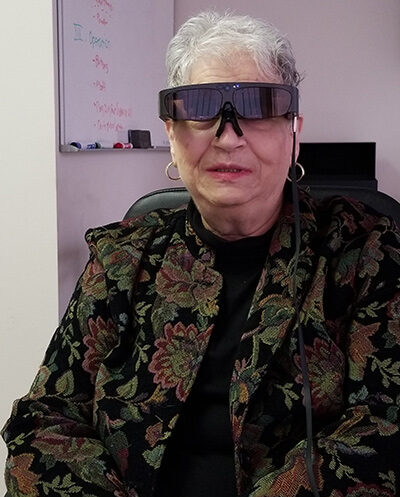 I'm so excited I could almost cry, I am pumped to use this tool to make my life better!
Joy M.