Eyedaptic Glasses for AMD Vision Assistance
Introducing The Eyedaptic EYE3. New & Improved!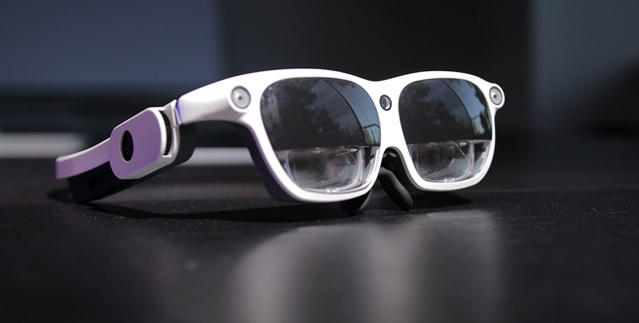 Eyedaptic EYE3
The EYE3 is the newest addition to the Eyedaptic product line up and is the best in class state-of-the-art self-contained Augmented Reality Eye Wear with a wide 55-degree field of view. With proprietary embedded software to provide a hands-free viewing experience, this brings our visual aid to new levels to help those with retina-related vision loss lead fuller, productive lives.
Equipped with patented simulated natural vision software, the Eyedaptic solution optimizes the user's functional peripheral vision. It does this through a small embedded camera which captures the surroundings, manipulates and enhances the pixels and re-displays the image.
Key Features
Multiple Viewing Modes

Autozoom Mode – automatically zooms to bring text to the users most favored text size, allowing for easier and more efficient use, with no need to remember gestures or controls
Image Stabilization – automatic stabilization for higher magnification modes
Plain Zoom Mode – user controls full-screen uniform magnification

Contrast Enhancement – More contrast modes – not only edge enhancement but also white on black and black on white modes
Magnification up to 10x, ideal trade-off between zoom function and available field of view
Fits comfortably, for extended wearability across a variety of tasks
Over 4 hours continuous use without any cords or recharging
Learn more about how to get started with the EYE3
Unboxing
When you first open the box, you will see the glasses and a portable carrying case. In the case you will find: a portable charging block for the glasses, USB cords, a battery pack and guides to help you setup and use your glasses.
More Information
Submit this form to gain access to our informative content.